TBH BRAIN WORKOUT
1.0 and 2.0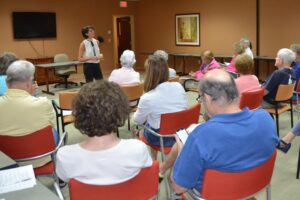 Cognitive fitness is a primary concern among adults over the age of 50.  The TBH BRAIN WORKOUT Toolkit series teach lifestyle choices that support cognitive vitality.
Grounded in science. Smart and engaging group workshops train the brain using a social based brain training model.

Based on the TBH Blueprint. Effective wellness interventions challenge engagement across the body, mind and spirit.

Hands-on, high-touch training exercises. Participants work together to practice cognitive enhancement strategies that help boost processing speeds, reasoning, attention and memory skills.
TBH BRAIN WORKOUT 1.0
Teach brain-building workshops across body, mind, spirit and social interventions for better brain health and wellbeing. Perfect for in person or virtual group delivery. Includes detailed course instructions and scripted classes for turnkey training.
TBH BRAIN WORKOUT 2.0
Builds on the success of the original TBH BRAIN WORKOUT 1.0. Teaches all new next-level "brain workouts" for improved thinking and processing skills. Can be taught as a stand-alone course or as
a continuation of the original.
How It Works
1) Sign Up: Sign up now for your annual license.
Get Started: Access your trainer materials and class resources on the password-protected online portal 24/7.
 All Set! Use the trainer materials to start facilitating rewarding memory training classes.